Best

practices for asynchronous podcasts
During this free webinar you will learn how to set up your asynchronous podcast for success.
Discover how to create more audio content with less time and effort, just like Laetitia did with her 100-episode podcast challenge.
During this webinar you will get:
Step-by-step process:

How to set up an asynchronous interview, from A to Z

Examples:

Different async podcast formats made by our users that you can create yourself

Case study:

An in-depth look at Laetitia's 100-episode podcast challenge, including her pre- and post-production processes
Download the webinar presentation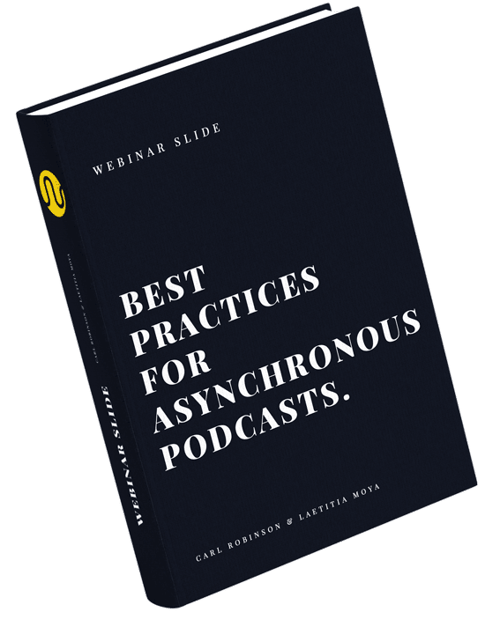 A step-by-step guide on how to set up an asynchronous interview.
Examples of Asynchronous podcast format.
An in-depth look at Laetitia's 100-episode challenge.

Pre-production - question writing, landing page, artwork, show notes
Post-production - editing, publishing, and sharing the episode

Lesson learned from the challenge.

The problems encountered and the solutions
Managing expectations and reality
What she'd do differently next time
Carl Robinson is the CEO and Co-founder of Rumble Studio.
While Carl loved podcasting, it occupied all of his free time. It became evident to him that audio content production could be made faster and easier when he was recording his podcast, the Voice Tech Podcast.
The result was Rumble Studio, created in collaboration with Joris Guerry, co-founder, and CTO.
Laetitia Moya is Rumble Studio's podcast creator. She also produces and edits all visual and audio projects.
Recently, she took on the 100 podcast episodes challenge and got over 50 guests within the first 3-weeks.