Updates
Rumble Studio Update - Q2 2021
Q2 2021 has been very productive for Rumble Studio, and we're excited to share our progress with you.
---
Q2 2021 has been very productive for Rumble Studio, and we're excited to share our progress with you.
Fundraising
- We are currently raising a €250K pre-seed on a BSA Air (~Seed Fast), and have secured €140K to date. ‍
- We continue to seek investment from angel investors. Contact us if you would like to receive our investor deck.
- We successfully obtained the 'Deep Tech' label from BPI , which recognises the fact that our asynchronous conversation technology represents a valuable differentiator over existing competitors, and provides a strong barrier to entry to any new entrants. - - This label has allowed us to apply for
Bourse French Tech Emergence
from BPI, which should lead to a grant of €90K.
- We were also awarded the 'Courier Prescripteur Deep Tech' label from Cap Digital, which allows us to apply for refundable convertible notes from French Tech Seed - BPI, and triple the investment we receive from professional investors. This means for every euro we receive from business angels, we receive two more from BPI. Based on the profiles of our current investors we can apply for €160K on top of the BSA AIR
Accelerators
- In June we were accepted into the famous
Wilco
incubator program in Paris, who are now coaching us on all startup matters.
- We have also been selected to join the
Media Motor Europe
program 🇪🇺, which begins in July. We can look forward to introductions to potential clients and to media-focused startup investors.
- We have also applied to the
Havas Startup accelerator
which, amongst other benefits, offers a pilot partnership with a marketing agency from their group.
Product
Front-end UI
- From our user testing with our initial customers, we are implementing a new user interface for the editor and guest users. While the 'WhatsApp' style audio message block view was simple to use, it was also inflexible and time-consuming to use.
- Our new editor view, which we are calling the 'script view' replaces this with a text-first interface. Now editors can plan their conversations as they would in a Google document, using standard commands like cut, copy and paste, then convert the lines of text into the interview steps for the guest (think Typeform). This process will also make it easier to re-purpose the written content as blog articles, linkedin posts, etc.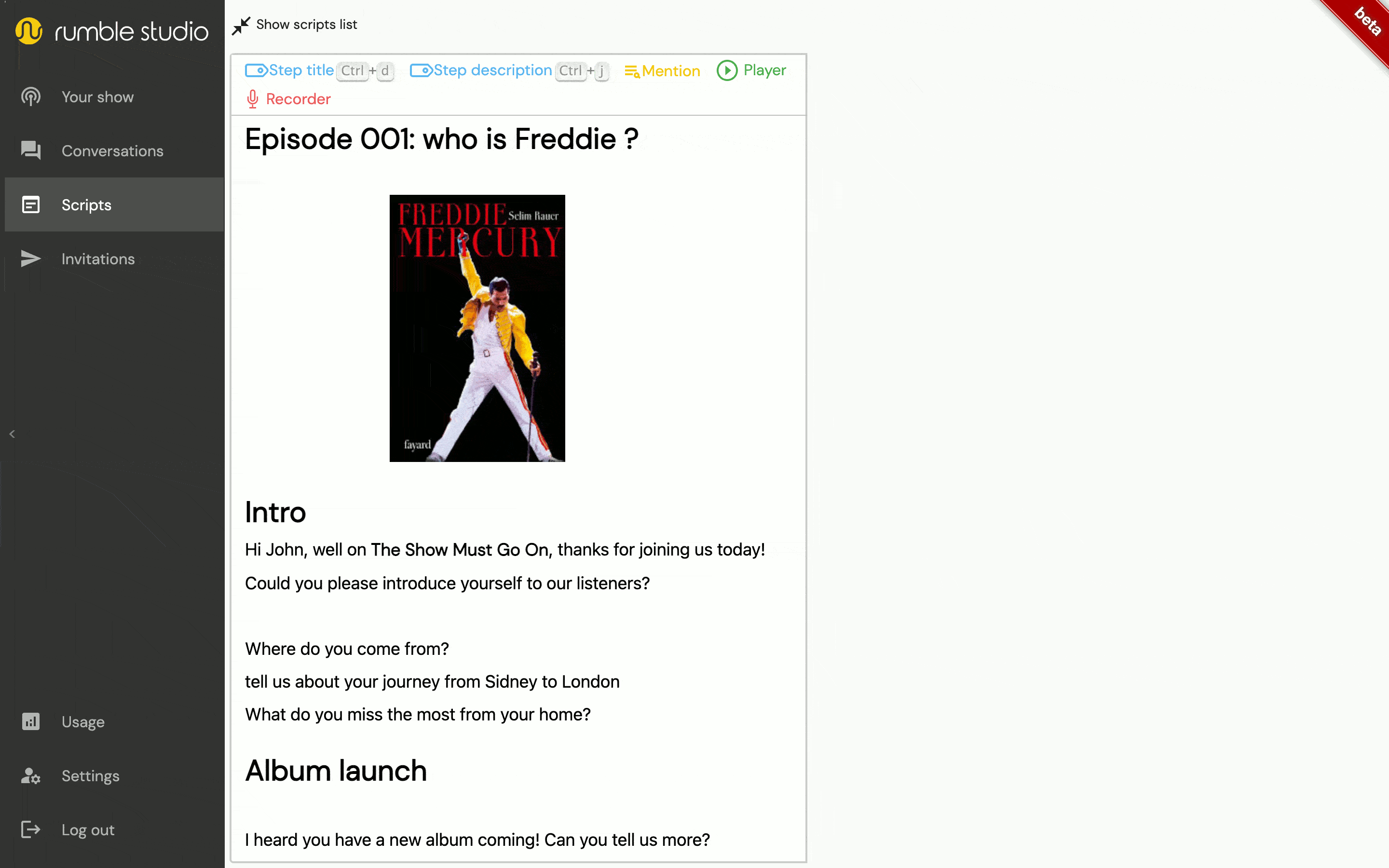 The guest will now record their responses in a new 'focus mode' view, removing distractions and simplifying the experience.
This new UI is planned for release in September with payment (Stripe) for a fully self-served app.
Backend code
- Significant improvements have also been made to both the backend code and our development processes. These include a change of web frameworks, containerised deployment, and implementation of continuous integration. One edit from our devs goes automatically through unit-tests & end-to-end tests, then is automatically deployed to our servers.
- Our application now has much better stability, scalability and performance, meaning it can handle large user volumes with ease.
Open-source web player-recorder
- The development team has recently completed a highly-customisable
open-source web player-recorder
. This is an important component of our solution that will be used both in the Rumble Studio app to record host/guest audio, and also on our customers own websites as a player for their audio. We are open-sourcing the code to serve as a valuable marketing aid, engaging the audio developer community by giving back.
Team
- On the growth team, we have made our first full-time hire, Nived, who completed his internship with us and joined us as our Digital Strategist. Product Marketer, Jowie, is about to complete her internship too, and will be joining us on an alternance program while completing her masters degree. We have also recently welcomed Laetitia, who is an expert audio and video production specialist, to begin her internship with us.

- On the development team, we have been joined by Lucas for a 3 month internship, to help intern Ismael with development of our code base. We have also welcomed Maxwell, a composer and audio programmer intern from the US, to work on a musical jingle generator. We are now looking to hire a full-time Senior Front-end Developer to help improve our user experience.

We are still a fully remote team, but now that Covid restrictions are easing in France, we will be renting a physical co-working space in Paris from September onwards.
Customers
- While sales are on hold pending the release of our new version, we continue to work with our existing customers to capture feedback and explore different use-cases for Rumble Studio.
- We recently completed a project with the
Conversation Design Institute
to capture audio from attendees of their online event, on the Hopin platform. CDI gave us a booth, and attendees took part in a short interview on Rumble Studio. The audio will be used in a future CDI podcast.
Marketing
- We have successfully launched our own podcast,
Audio Leads
, created using Rumble Studio of course.
- The growth team has been busy experimenting to define the best practices for efficiently conducting async interviews, including how to phrase questions, create natural sounding conversations, and reduce the time spent on each step of the production.
- We are communicating our findings as thought leadership on our
blog
and social channels (
Twitter
,
LinkedIn
,
Instagram
), and engaging the podcast and marketing communities. Followers and web traffic are growing steadily as a result.
- We are launching our new
email newsletter
this week, and planning a number of campaigns to promote signups.
If you have any questions, please feel free to reach out us at hello@rumble.studio.