Create podcasts 10X faster & easier.
Rumble Studio allows companies, creators and agencies to create audio content at scale, using asynchronous interviews.
No skills required.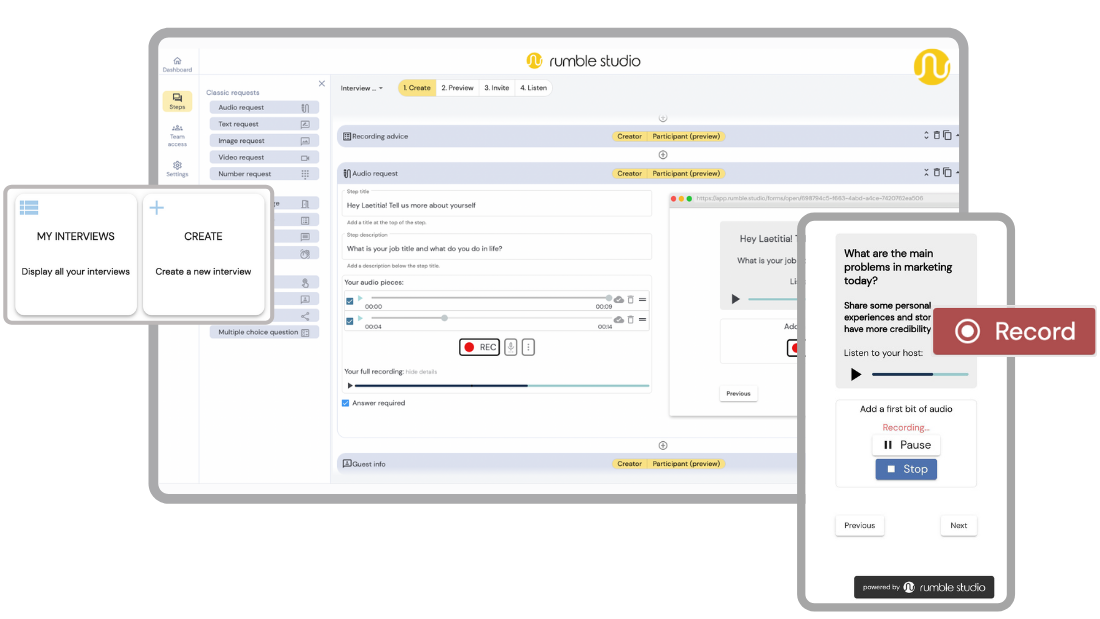 WHY USE RUMBLE
Create more audio in less time
COMPANIES
Spend less on audio creation, release more podcasts, and boost your marketing & comms.
AGENCIES
Increase your margins, differentiate your offer, and sell more services to more clients.
PODCASTERS
Release more episodes with less time & effort, engage your audience, and avoid podfade.
WHAT WE DO
Easy & affordable audio content
Rumble Studio helps you to record and publish audio content quickly, affordably, and consistently over the long-term.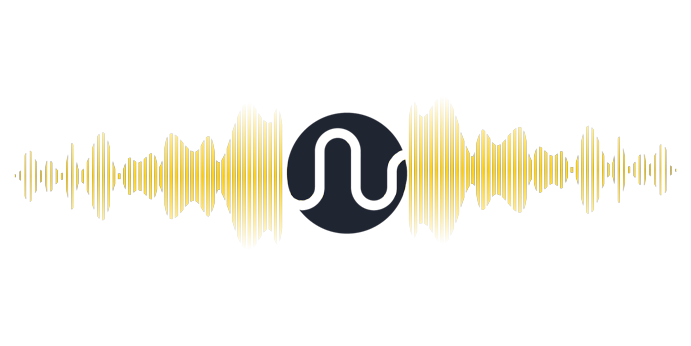 Pricing
Feature-packed plans to suit any budget. No credit card required.
FAQ
Frequently asked questions
What problems does Rumble Studio solve?
Rumble Studio helps creators, businesses and agencies to record and publish audio content quickly and affordably, and consistently over the long-term. Rumble is the fastest way to create audio for your podcast, website, and social media campaigns, with time & cost savings of up to 90%.

We created Rumble Studio because today's audio creation tools are slow and expensive to use, presenting a high barrier to entry for many businesses and individuals. Worse still, companies that do start a podcast suffer from extremely high attrition. Half of all active podcasts today have 10 or fewer episodes, and most podcasters quit before they obtain the business benefits that their podcast can offer. Rumble Studio solves both these problems by making podcasting fast, easy and accessible to all.
How do I use Rumble Studio?
Rumble Studio is a SaaS platform available online through a web browser with nothing to install. This ensures it is available to all guests and employees in a company with zero friction. An unlimited number of users and guests can collaborate on creating audio content together, using our simple "take turns" interview recorder. Rumble Studio is a pioneer in using asynchronous interviews for audio content creation.
How do asynchronous interviews work?
First, you write a series of questions for your guests to respond to, or use one of our templates. Then you send your guest(s) an invitation link by email, instant messenger, or even on social media. Every guest that clicks the link gets their own private interview experience, giving you lots of audio to include in your projects.

Guests record audio, submit text, images, video and more. They can record and re-record segments, and only submit their audio once they are happy with the result, meaning less editing for you. By allowing guests to respond in their own time, you avoid the need to schedule calls with them. Plus, recording in a zero-pressure environment means the quality of their answers, and your audio content, is improved.
How many guests can participate in my interview?
An unlimited number of guests can participate in your interviews. Additionally, there are no limits* on how much audio your guests can record.
*subject to fair-use policy.
What equipment do participants need?
The only requirement for all participants (host and guests) is access to a computer or mobile device which has a microphone.

If recording audio on a desktop, we recommend using an external microphone for best results. However, many computers such as Macs can record great-sounding audio without the need for an external microphone.

Headphones are also recommended but not essential, as during asynchronous interviews there is no cross-talk between speakers.
Do guests need an account to participate?
No. When guests click your invitation link, they are taken straight to the interview and are simply asked to enter their email address. They don't need to set a password or verify their email address in order to start submitting their responses to your questions.
Which web browsers support Rumble Studio?
Rumble Studio works on all the major browsers, including Chrome, Firefox, Opera, Microsoft Edge and Safari. We recommend using Chrome or Firefox, as these browsers implement the very latest technologies for audio recording, and offer the best results.
Does Rumble Studio work on mobile?
Yes. Rumble Studio is a web application that works on a desktop, and resizes to fit a mobile or tablet screen. The interviews are usually created on a desktop, and guests usually take part in these interviews on their mobile devices. The microphones on modern smartphones are remarkably good, and produce excellent sounding audio recordings.

For the more technically minded, Rumble Studio is a responsive progressive web application (PWA) built on Angular.
PODCASTS
Listen to experts and grow your business with audio
NEWSLETTER
Learn to grow with audio
The Audio Leads newsletter helps you grow your business with audio.
Articles & podcasts to your inbox, once a week.