Audio superpowers for everyone
Rumble Studio lets anyone record spoken audio at scale.
Create hours of audio content in minutes, no skills required.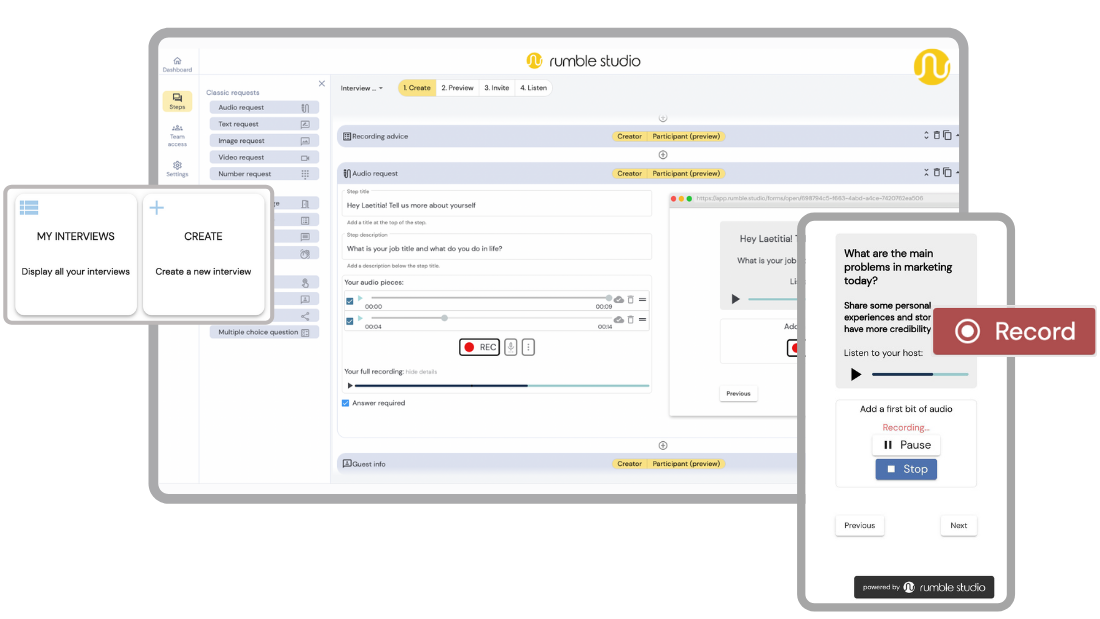 10X FASTER, EASIER, CHEAPER
HOW IT WORKS
Don't blink. It's async.
Rumble is the fastest way to create audio for your podcast, website, and social media campaigns, with time & cost savings of up to 90%.
1. Choose questions & invite your guest(s)
Choose a question template in Rumble, then record your interview questions. Invite as many guests as you like - just send them the link!
2. Your guest(s) record their answers
Your guests click the link, listen to your questions, then record their answers. Capture audio, text, images and video.
3. Review guest audio & transcripts
Review the guest audio, read the transcripts and select the best responses. If you like, record additional audio such as follow up comments or intros.
4. Create your mix
Assemble audio segments from different interviews and speakers into a sequence, jingles and effects included.
5. Export your audio
Export your mix as an MP3 file ready for publishing, or download the raw FLAC files for manual editing. Rumble handles all the audio processing, no skills required.
FEATURES
Audio made simple
Rumble Studio is the first and only company to create podcasts with asynchronous guest interviews. This makes the process fast and simple, and allows anyone to create audio content, no skills required.
Create Interviews

Invite & Collaborate

Record Audio

Enhance & Mix

Export

Extras
Interview creator
Write a series of questions for your guests to respond to. Guests can record audio, submit text, images, video and more.
Interview templates
Get started quickly and easily with one of our interview templates. Get scripts for podcast episodes, recruitment, client testimonials and more, then customize to your needs. Save your own custom scripts as templates too, to use with future guests.
Audio, text, image and video capture
Ask your guests to provide audio, text, images, and even videos.

Invite guests with a single link
Record audio at scale by interviewing many guests at once. Simply share your Rumble invitation link with your guests, either privately by email or instant messenger, or publicly on social media or a website.
Every guest that clicks the link gets their own private interview experience, giving you lots of audio to include in your projects.
Collaborative creation
Work on the same interviews and audio with clients and team members. Create interviews and audio together, review work, and involve stakeholders across your organization.
Group access and permission controls
Advanced features for creating multiple teams and controlling access and permissions. Enable efficient collaboration while ensuring the privacy and security of your interviews and content.

Take-turns audio recorder™
Conduct remote asynchronous interviews with one guest or one hundred, using our unique audio recorder. Participants record on their own schedules, giving you more audio in less time.
Unlimited audio recording & preview
Your guests can record an unlimited amount of audio (subject to our fair-use policy). Plus, you can always listen to the reduced-quality recordings before deciding what to export in high-quality.
Only pay for what you use
Each plan includes a certain number of hours per month of high-quality audio export. Additional hours can be purchased as needed.
Magic sparkles audio enhancement
Automatic post-processing to make your audio sparkle. Includes silence removal, noise reduction, auto-leveling and more.
Royalty-free jingles & sound packs
Unlimited professionally produced musical jingles, separators and sound effects for your intros, outros and background.
Get in the mix
Our advanced mixing tool lets you assemble audio segments from different speakers, jingles and other audio into a sequence, then export this as a single MP3 file ready for publishing.
High-quality audio exports in WAV and MP3
Industry standard quality audio exports at 48 kHz / 16-bit. Included in each export are the raw WAV files for each segment and speaker, plus a merged ready-to-use MP3 file.
Unlimited transcriptions
Generate high-quality written transcriptions of all recorded audio, displayed in the app and available to download as text files.
Bulk export & download
All host and guest audio segments can be downloaded in bulk as a zip file. All text, images and transcripts are included in the export, grouped into folders for each guest.
Branding kits
Create one or more branding kits to customize the guest interview experience with company logos and color schemes.
White labeling
Remove the Rumble Studio branding from the guest interview experience.
Customer support
Need some assistance? Get in touch and our legendary customer service team will be happy to help.
BENEFITS
Advantages of async audio
Our unique asynchronous approach has many advantages over the traditional method of recording live interviews.
1. Produce more content volume at lower cost
By decoupling the host and the guest, audio content can be created at greater scale, in less time.
This allows more audio to be created at a lower cost, increasing volume. The more content your clients can release, the more of their customers' mindshare they can capture.
2. Greater convenience allows more team members to be involved
Asynchronous interviews eliminate the need to schedule calls and meetings to record, and allow participants to record in their own time.
This makes it much easier for guests to create audio on their own schedules, especially when interviewing hard-to-reach guests like executives.
3. Better quality content
With Rumble you can interview multiple guests with ease, by simply inviting many people to the same interview.
This crowdsourcing of content is unique to Rumble, and results in better quality audio as multiple points of view are represented in the conversation.
Also, you get better informed answers from guests, as they have time to think about their answers before recording (unlike a live interview).
4. Improved stakeholder reviews and corporate governance
Our asynchronous system allows more stakeholders in the organisation to review the content and contribute to its development. The questions can be reviewed before being sent to guests; the guest answers can be reviewed when they are received; then the narrative of the host audio can be carefully crafted with input from the managers.
We have found that companies who work in legally-sensitive environments such as medicine and pharmaceuticals especially appreciate this level of transparency and control over the messaging.
5. More engagement with the community
By crowdsourcing the guest audio, we involve more of the client's community in the process, generating valuable engagement and goodwill for our corporate customers.
For example, pharmaceutical clients could engage the medical community of doctors and nurses by crowdsourcing their opinions on a new drug.
6. Many more benefits
Companies can use synthetic host voices for branding, there's often little to no post-production to do, colleagues can share question templates, and even produce audio in other languages.
For more information, see this blog post.
"It's a truly different way of creating audio content, like podcasts!"
"It's easy to use, and makes dropping episodes super-fast."
"Loved the episode! That was such a cool experience!"
"It was nice to record this way. You're on the right track here :) "
FAQ
Frequently asked questions
What problems does Rumble Studio solve?
Rumble Studio helps creators, businesses and agencies to record and publish audio content quickly and affordably, and consistently over the long-term. Rumble is the fastest way to create audio for your podcast, website, and social media campaigns, with time & cost savings of up to 90%.

We created Rumble Studio because today's audio creation tools are slow and expensive to use, presenting a high barrier to entry for many businesses and individuals. Worse still, companies that do start a podcast suffer from extremely high attrition. Half of all active podcasts today have 10 or fewer episodes, and most podcasters quit before they obtain the business benefits that their podcast can offer. Rumble Studio solves both these problems by making podcasting fast, easy and accessible to all.
How do I use Rumble Studio?
Rumble Studio is a SaaS platform available online through a web browser with nothing to install. This ensures it is available to all guests and employees in a company with zero friction. An unlimited number of users and guests can collaborate on creating audio content together, using our simple "take turns" interview recorder. Rumble Studio is a pioneer in using asynchronous interviews for audio content creation.
How do asynchronous interviews work?
First, you write a series of questions for your guests to respond to, or use one of our templates. Then you send your guest(s) an invitation link by email, instant messenger, or even on social media. Every guest that clicks the link gets their own private interview experience, giving you lots of audio to include in your projects.

Guests record audio, submit text, images, video and more. They can record and re-record segments, and only submit their audio once they are happy with the result, meaning less editing for you. By allowing guests to respond in their own time, you avoid the need to schedule calls with them. Plus, recording in a zero-pressure environment means the quality of their answers, and your audio content, is improved.
How many guests can participate in my interview?
An unlimited number of guests can participate in your interviews. Additionally, there are no limits* on how much audio your guests can record.
*subject to fair-use policy.
What equipment do participants need?
The only requirement for all participants (host and guests) is access to a computer or mobile device which has a microphone.

If recording audio on a desktop, we recommend using an external microphone for best results. However, many computers such as Macs can record great-sounding audio without the need for an external microphone.

Headphones are also recommended but not essential, as during asynchronous interviews there is no cross-talk between speakers.
Do guests need an account to participate?
No. When guests click your invitation link, they are taken straight to the interview and are simply asked to enter their email address. They don't need to set a password or verify their email address in order to start submitting their responses to your questions.
Which web browsers support Rumble Studio?
Rumble Studio works on all the major browsers, including Chrome, Firefox, Opera, Microsoft Edge and Safari. We recommend using Chrome or Firefox, as these browsers implement the very latest technologies for audio recording, and offer the best results.
Does Rumble Studio work on mobile?
Yes. Rumble Studio is a web application that works on a desktop, and resizes to fit a mobile or tablet screen. The interviews are usually created on a desktop, and guests usually take part in these interviews on their mobile devices. The microphones on modern smartphones are remarkably good, and produce excellent sounding audio recordings.

For the more technically minded, Rumble Studio is a responsive progressive web application (PWA) built on Angular.
What internet speed do participants need?
Asynchronous interviews don't involve a live conversation, so internet speed or latency is not a consideration. Audio is recorded locally on each participant's device, then uploaded to our servers as the connection speed permits. In podcasting lingo, this is referred to as a 'double-ender' recording. This ensures excellent sound quality regardless of the quality of the internet connection.