Case Studies
How One Simple Tool Crowdsourced Audio Content for the Voicebot Podcast
Learn how Voicebot, the leading authority on voice technology, interviewed over a dozen thought-leaders and produced two podcast episodes in record time.
---
Outline:
Canvassing the opinions of thought leaders
Voice assistants are rapidly entering our lives. From 6.5 million smart speakers sold in 2016, we're now seeing more than 180 million units sold annually worldwide. In addition, more than 50% of the global population has adopted voice technology whether it's inside their cars, smartphones, or more evidently with their smart speakers.
It seems we're going towards a screenless future.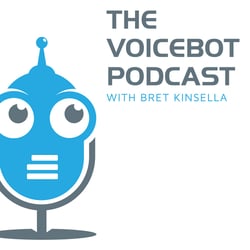 To promote this more audio-driven world, Bret Kinsella created Voicebot, an online platform that gathers the most important news, commentary, research, and analysis of voice technology. With more than 250 podcast episodes and dozens of voice technology reports, Voicebot has become not only the leading platform in the space but also a community for all professionals in this industry.
And as a voice tech community, Bret wanted to tap into their shared expertise for one of his recent endeavors. He would focus on gathering the industry's leading experts to talk about the future of conversational AI on his podcast Voicebot Podcast, but he only had a couple of weeks to carry this huge task ahead.
Live interviews took too much time
Think about the following scenario.
You have 3 weeks to schedule 13 interviews for a two-part podcast series. Some of them are in quite different time zones and that's just the beginning of the challenges that lie ahead. Carrying out the interviews is just a small fraction of all the things you need to do:
Design your interviews with thought-provoking questions.
Find and research the people that will be on your show.
Schedule the interviews (and hope they won't reschedule after the deadline).
Compile and edit their answers.
Publish them on different platforms (considering the time it takes to get them approved)
And all of this while being the host and giving your own response to the questions you asked your guests.
Just enumerating all of these tasks is tiresome!
This was actually the challenge Bret Kinsella was facing.
As the founder, research director, and host of the Voicebot Podcast, he had a lot on his plate. He decided to do a special podcast series called Voices of Voice that would gather thirteen executives of the voice and conversational AI industry below one virtual roof in record time. He planned to get the industry leader's predictions on what 2022 holds for voice technologies and coherently showcase them all.
But he had to make one of two choices:
Carry out all these interviews the traditional way and crunch extra time, effort, and risk to get it done within a tight deadline.

Try an asynchronous approach and crowdsource the process.
Async: a new format for podcasting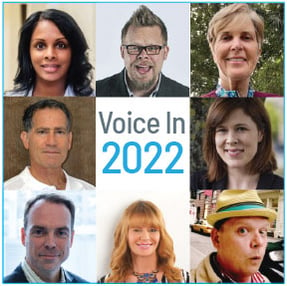 He tried the second approach with our help at Rumble Studio, with little time to spare.
He would record just 3 direct questions and send them from our platform to all the interviewees. Then, they would record and send their responses at their convenience:
What are your predictions for 2022 in the voice and conversational AI industry?
What barriers are today that limit the more rapid or widespread adoption of conversational technologies?
As you look back, what was the most significant change in the industry experienced over the last 2 years?
This meant that these professionals could take their time to respond and give well-thought-out answers that needed minor edits or no editing at all. Bret would also pre-record his response and all the different segments of the podcast beforehand (intro, outro, transitions between guests, etc.).
Everyone worked on their own time. In other words, the communication and working process became asynchronous.
More audio in less time
Bret was able to gather critical insights quickly without the herculean task of scheduling 13 different interviews in just 2 weeks. Since he got so much recorded audio back, he had to add a second podcast episode to showcase all the valuable content to his audience. He ended up creating a two-part series on his podcast and thanks to the easy use of our platform he was able to release it soon after.
Bret used our platform a little differently as well. In addition to being the host of the podcast, he added his answer at the end of each episode and an analysis of the common predictions and observations of his guests. Even if it required more post-production and editing, it showed him that our solution was flexible enough to meet his personal needs.
Rumble Studio was the end-to-end podcast creation platform that he needed to achieve his ambitious goal.
A follow-up on Bret's suggestions
Our work with Bret was a two-way street. We got out of it as much as he did.
Thanks to his feedback we improved our tool significantly. Bret reported that his audio editor spent a long time assembling the audio segments into coherent episodes. In response, we built an advanced mixing tool to help speed up the process! The new Mix feature lets you arrange the audio into a sequence before export. We also added transcripts to help mix and match the segments from different guests and interviews without having to listen to the audio, saving time.
Bret was able to create this podcast series more efficiently given his time constraint and we're glad we were part of this process. Like Bret, you can take advantage of our solution to your podcast's needs. Are you ready to take the next step? Book a free 30-minute strategy call with our team!
Useful Links: